It was the Christmas season.
I stumbled upon a website about a six-year-old little girl. Battling brain cancer. I read her story and the pleas of her parents for prayer on her behalf. I prayed. Then I thought to myself. . . if that was me and I could have anything I wanted for Christmas, all I'd want is a healthy child. That is all I would ever want for the rest of my life. I'd never ask for anything else if I could just have that.
I entered back into my own reality with a huge dose of contentment. I have the very thing this family prays, dreams, and cries for. My family is healthy.
Our health is not something that I take for granted. But in that moment, I felt even more grateful. And we're not just healthy, we are happy. Our marriage is strong. We have a nice home. Loving family. Good friends. We are blessed. And I don't want to take any of it for granted.
But sometimes I do.
Each day unwraps many little gifts for me. And I miss them. I'm either not paying attention or I'm unaware.
Someone else
felt the same way.
I haven't read her book, but I am ready to take on its challenge and make my own list of 1,000 gifts.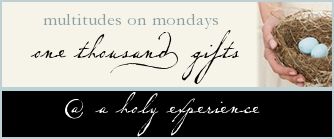 So here I go . . .
#1. . . the scent of fresh air filling our living room
#2. . . chubby legs taking their first steps
#4. . . birthday balloons and streamers still up in the living room
#5. . . Graydon sticking his popsicle stick in the gap between his front teeth

#6. . . music that calms my heart

#7. . . taking photographs through a new camera lens
#8. . . daily rain that gives me a rest from watering outdoor plants
#9. . . a flourishing Lantana plant
#10. . . feeling the
earth tremble
- a great reminder of Who is in control
#11. . . laughter from my children

#12. . . the bird camped outside our window for hours
#13. . . grilled cheese dinner by candlelight
#14. . . Graydon's mealtime prayer: counting from 1-13
#15. . . meeting a new friend
#16. . . a whole day free of schedules and commitments
#17. . . shelter from the
storm

#18. . . talking for hours over dinner with girlfriends
#19. . . the names of my children on a necklace
#20. . . anticipated power outages that never came to be
#21. . . chocolate cupcakes with a chocolate chip cookie inside
#22. . . parents who are still married after 35 years!
#23. . . AA batteries on sale: a 20 pack for $2.99

#24. . . a morning nap on the couch after a night spent on the floor
#25. . . blue skies after days of gray
#26. . . roses that returned for their second bloom this summer
I'll be keeping my ongoing list in my personal journal and adding it here as often as can.
Maybe you should try it too?